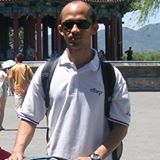 Hi there, I am Mohd Raussein. A professional masseur, reflexologist, acupuncturist, guasa and blood cupping therapist with over 19 years experience. I am Malay guy that is manly, strong and healthy. I am 46 years old but my ways of feeling and perceiving life are young.I like having young friends around the globe regardless of their national,cultural or ethnic background. I AM THEREFORE, NOT RACIST.
I have no problem handling guys of all walks in life and their body sizes ( Whether it is slim, medium or chubby ) because I provide my service from the bottom of my heart.With love,care and good will. I do not care if you are black, white or brown, short or tall, fat or skinny, rich or poor, young or old. I will respect and serve the same to you.
Serving guys well by giving good service is my top priority. I am not just doing it for money as I care they get value for the money. I will service you to the best of my abilities.

Through my own journey of self-discovery, I have discovered that The Ancient Art of Malay Traditional Massage and Malay Manhood Massage provide a lot of benefits. I am immediately drawn to the deep sense of wellbeing and relaxation, heightened pleasure and wholeness that this wonderful massage experience brings to the receiver.
I am passionate about my work and my aim is to help clients awaken and find themselves through experiencing deep pleasure and relaxation. I have 19 years of experience as a massage therapist specialising in Malay Traditional Massage and I am also trained in Trigger Point Therapy and Chinese Acupressure Massage.

I only take limited bookings. Book early to avoid disappointment. Please Whatsapp or SMS for booking an appointment. However, if you have inquiries about my service, you can call my number at +60192240807.
I apologize in advance if I am unable to attend to your call as I maybe with a customer. Please let me get back to you as soon as I am available. Thank you for your kind understanding and I hope to see you soon.
Contact me at +60192240807 [Call,Text or WhatsApp Only] or connect with me on Facebook (at) urutkampong.